This site has moved to a new software platform. Instead of a username you now use your email address to login. Passwords have been reset, so please use the link provided on the login page to set a new password.
BAHID membership fees are renewable on 1st January each year. If you have not renewed your membership yet, please do so at your earliest convenience.
2nd volume now available from CRC press
A supplemental follow-up to Forensic Human Identification: An Introduction is now available for purchase. Advances in Forensic Human Identification covers advances in the most well-known scientific techniques and discusses new and developing subjects and modalities of human identification. Details can be found here.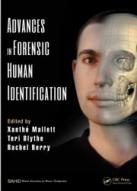 The Association
The primary aim of the Association is to encourage productive interchange between various disciplines in human identification, promote the academic integration of individual subjects and through the medium of a collective body, pursue standards of excellence and innovative developments. We provide a forum for discussion and promotion of subjects within the domain of human identification.

The membership includes (but is not limited) to professionals in the fields of forensic anthropology, forensic odontology, forensic archaeology, facial anthropology, forensic podiatry, forensic pathology, and disaster victim identification. Members come from academia, law enforcement, private business, institutional and legal backgrounds.

Although this is a British Association there are members outside the UK from elsewhere in Europe, the US and Australia, and membership throughout the world is encouraged.

Membership of the Association costs just £40 for a full membership or £20 for a student membership; more details and an application form can be found in the menu on the right.
Please visit our sponsors
Proudly associated with the Forensics Europe Expo:


As announced at the BAHID AGM in December 2013, Forensics Europe Expo would like to offer BAHID members a 20% discount on all conference passes for the Forensics Europe Expo 29-30 April 2014 in London.
The Forensics Europe Expo is the only dedicated international forum for the entire forensics sector and supply chain to source forensic products, equipment and services, as well as providing the definitive source of education, best practice, training and networking.
The show will once again connect the widest range of forensic equipment and services suppliers with over 3,000 international visitors. As an exclusive offer available to BAHID members only, Forensics Europe Expo would like to offer a 20% discount on all conference passes. BAHID members can contact the Membership Secretary at j.bikker@dundee.ac.uk to receive their discount code.
Wiley supports the BAHID Conference: